Easy Installation - Just measure, cut, glue, caulk, paint.
Measuring and Installation
StyroTrim stucco architectural accents are not only high quality, long-lasting, affordable stucco and cement-coated treatments, they are very easy to install.
Before placing an order, obtain the measurements of the wall, window or door areas where you intend to install the treatments.
All stucco StyroTrim sills, flat trims, deco trims and crown mouldings come in 85" length strips, except for finished-end sills that can be ordered in custom lengths. You will use the strips in varying sizes and may need to cut them down to specific widths. StyroTrim can be cut or mitered easily and fit together to trim out most any opening. When placing your order, you need to indicate how many 85" strips of each trim style you need for your project.
Window and Door Trim Measurements
When measuring windows and doors, be sure to account for the width of the trim on all sides. Because the trim should be cut at 45 degrees at each corner, you should measure to the outside finished corners for the trim. For "framed" windows, add together both side heights and top and bottom widths to get the total measurement.
For example, a four-foot wide by three-foot high window with 6" trim on all four sides measures:
2 x (48" + 6" + 6" ) + 2 x (36" + 6" + 6" ) = 216"
Divide 216" by 85" (piece length) = 2.54 pieces. This window needs three(3) 85" length pieces of trim.

Window Sills
Suppose your window has trim on the sides and the top, with a window sill at the bottom. Since your window sill will typically extend beyond the trim (E) on each side of the window you will need to compensate for these widths when ordering your finished-end sill. The total sill length will be the width of the window, plus two trim widths (W), plus the amount (E) you want to extend beyond the trim on both sides. This will be your finished-end sill piece length.
For example, suppose your window is 60" wide and you want your window sill to extend 6" beyond each side of the 6" wide window trim. Add the window width 60" + ( 2 x 6" trim widths)+ (2 x 6" extensions each side) = 84" of sill needed. Simply specify an 84" sill with finished ends when you order.

Cutting Window Sill Returns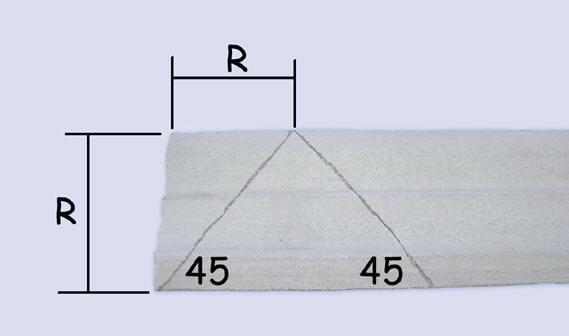 If you purchased stock sills with finished end returns, please disregard these instructions.
If you purchase 85-inch accent sills, please follow these instructions to achieve a finished return to your wall on each side of the window.
The cuts you make on both ends of your sill for these returns are why you must add extra lengths to your sill measurements. Lay sill flat-side down. At one end of your sill, measure the return depth of the flat side of the sill stick and mark it on the sill face (d). At this point, you will need to cut two miters (an "upside down" V ) in the sill with the point of the V at the place you marked. Each cut must be 45 degrees as shown. By doing this, you will cut two pieces from the sill.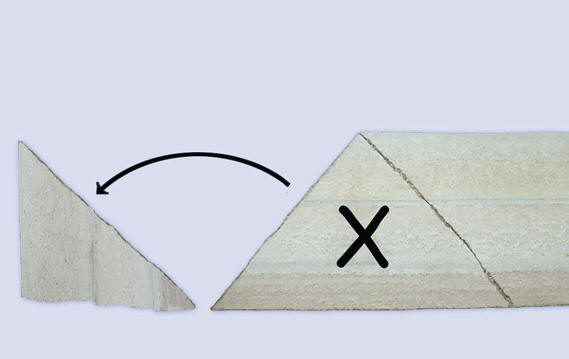 The middle piece that's a full triangle and mostly all foam will be discarded and the one that remains (with the most finished surface) becomes the return. Flip end piece which, will be used as the return. Repeat procedure for return on other side of sill.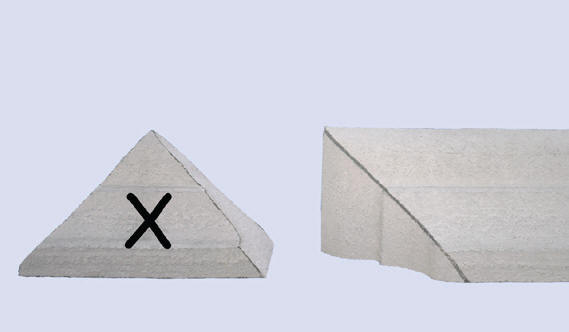 Slide the end piece over to the wedge cut in the sill and assemble using glue, such as 100% clear silicone. Repeat on the opposite side of the sill. Create both returns on the sill first before gluing sill to the wall. You may even use toothpicks or nails to hold the end pieces to the sill while the glue dries. Seams must be "StyroCaulk" filled.
Optional Pre-finished Ends
StyroTrim window sills may also be ordered with finished ends so the above procedure will be unnecessary. Order your sills with finished ends by giving us the sill length (in inches) you need.
Arches
StyroTrim window and door arches may also be ordered in every style of trim available. Your arch size and shape is as simple as giving us the inside width and the inside height measurements. Circles can be made by using 2 arches of equal size.
---
Installation
Here are some basic tools and materials needed to install your new StyroTrim accents:
Standard (disposable) wood saw or power saw with masonry blade.
S-curved bead of clear 100 percent silicone (glue)
Caulking
Paint or color coating
Your StyroTrim treatments will arrive in 85-inch strip lengths. Follow these steps to cut, glue, caulk, and install your treatments:
Step 1: Using a standard (disposable) wood saw or power saw with a masonry blade, cut through the outer exterior finish and foam core of your trim to the desired lengths (for a miter, cut the corners diagonally just as you would any other trim, like wood).
---
Step 2: Glue your treatments to the wall, window or door using a low solvent exterior construction adhesive. We recommend a generous S-curved bead of clear 100 percent silicone. Examples of suitable adhesives are: GE Silicone II 100% Silicone Household Glue, Liquid Nails Construction Adhesive, or Loctite PL 300 VOC Foamboard Adhesive. Apply the glue or silicone liberally on the inside of the treatments but avoid the surface you wish to paint. Firmly place the treatment against the structure and hold for several seconds.
---
TIP: Double-sided foam tape holds the treatment against the structure to allow the adhesive to cure. You may also temporarily use strips of masking tape across the outside surface of the trim to hold in place until the adhesive cures. On heavier installations, a nail or screw can be driven into the wall first (then cut the heads off) and used to pin the accent to keep it in place while the adhesive cures.
---
Step 3: Once the adhesive dries and the treatments are secure against the structure, fill any seams or gaps with stucco patch or our exclusive StyroCaulk caulking.
---
Step 4: Treatments are now ready for painting or color coating with the color or finish of your choice.
"I was very skeptical as to how easy it would be, but the whole job took much less time than I had anticipated. The installation instructions are easy to follow, even for a non-handyperson like myself".
Wendy DeMico, Syracuse, NY.